China Seismic Isolation Bearing From Manufacturer to Italy
Basic Info
Model No.: D200mm-D1200mm
Product Description
Model NO.: D200mm-D1200mm Usage: Beam Bridge, Highway Bridge, Railroad Bridge, Earthquake Resistant Material: Rubber Bearing Capacity: 1000-20000kn Rubber Material: Earthquake Resistance Material Types of Bridge: for Railway and Highway Bridge Trademark: Dacheng Specification: As Drawing Requests HS Code: 71690000 Certification: GB, BS, ASTM, SGS,CNAS Structure: Seismic Isolation Activity: Multi Direction Movable Bearing Size: From 200mm to 1200mm Inner Material: Rubber Layers with Internal Steel Plates Types of Building: for Building Basic Construction Transport Package: in Pallets or Wooden Cases Origin: China Contact information
Sales Manager:   Ms Jenny Lee
Mobile Phone:    +86-18678456530
Tel:       86-318-8538202
Fax:      86-0318-2210707
Website:    www.zqdcrubber.com
            www.bridgebearing.org    
The description of isolation bearings 
The HDR high damping rubber bearing, Its structure is the same as ordinary
laminated rubber bearings, high damping rubber bearing is improved through
rubber formula, so that the rubber material damping is increased, so that the
bearing's damping ratio can reach 15-18%. This series of bearing is suitable for 
9 degrees  earthquake intensity area of highway and municipal bridge. 
By improving the formula, so that the rubber material damping is increased, so that
the bearing's damping ratio increase, achieve the isolation effect.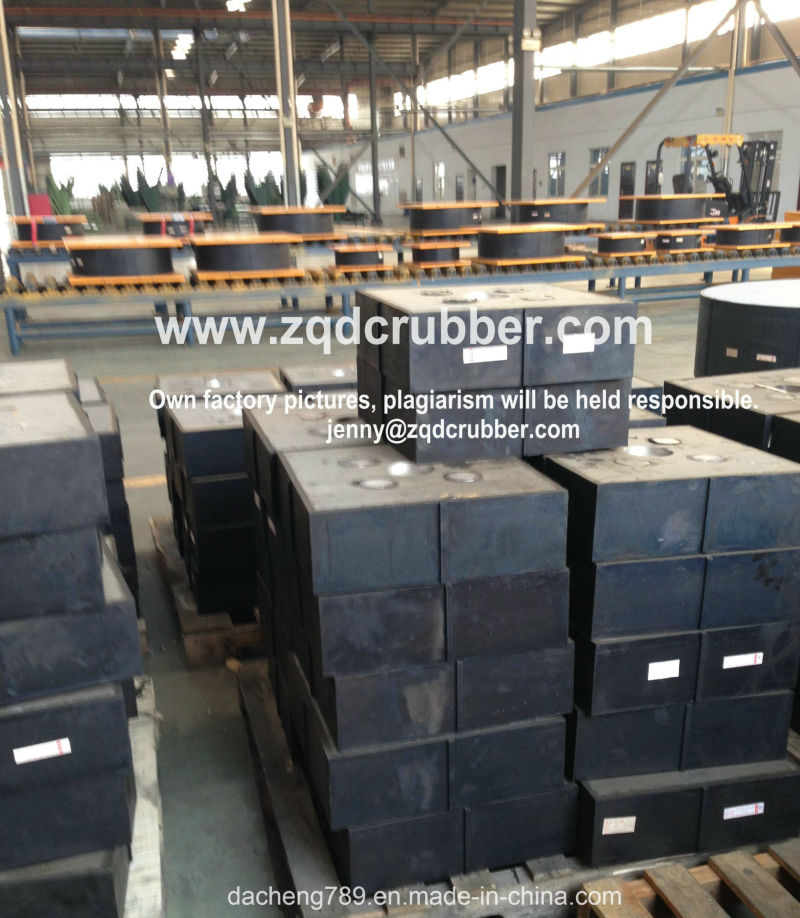 CLIENTS CAME TO CHECK FINISHED PRODUCTS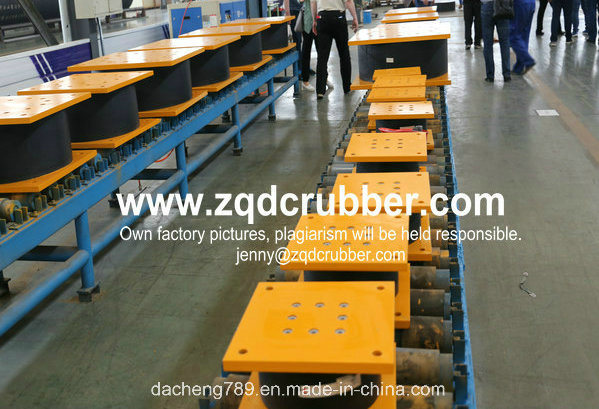 Lead Rubber Bearing
,IN THE MIDDLE OF TESTING.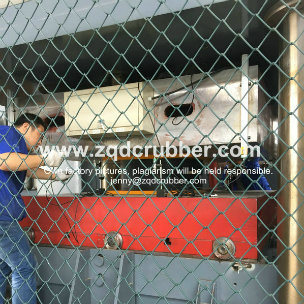 PACKAGED AND DELIVERY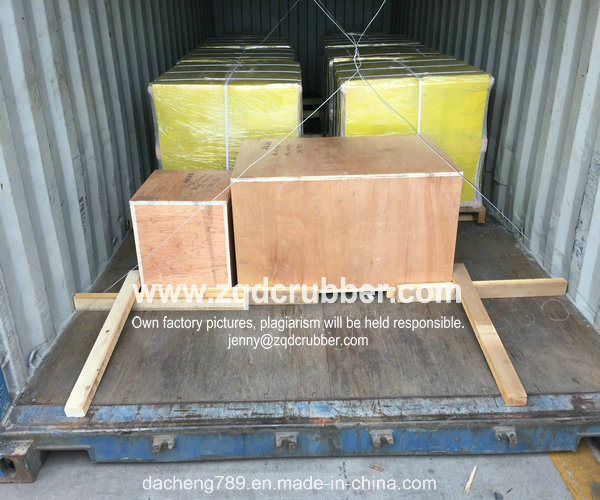 OUR LEAD RUBBER BEARINGS ON EXHIBITION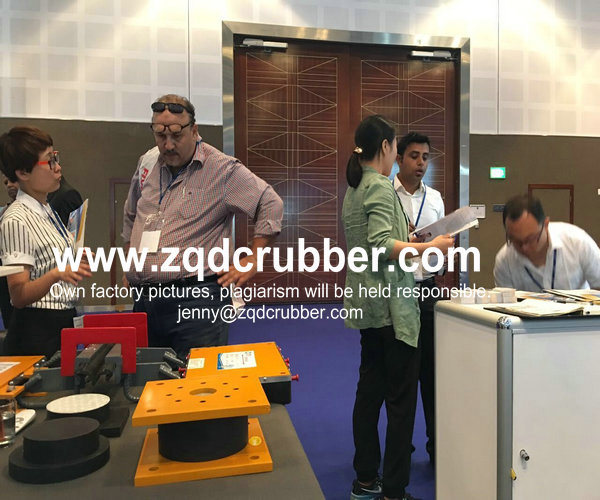 Bridge bearings and expansion joint are important parts of whole bridge components,  but the amount money that spent on bridge bearing and expansion joint is only 2-3.5%, it is absolutely a wise choice to evaluate it within the whole project to prevent failed choice bringing unnecessary costs.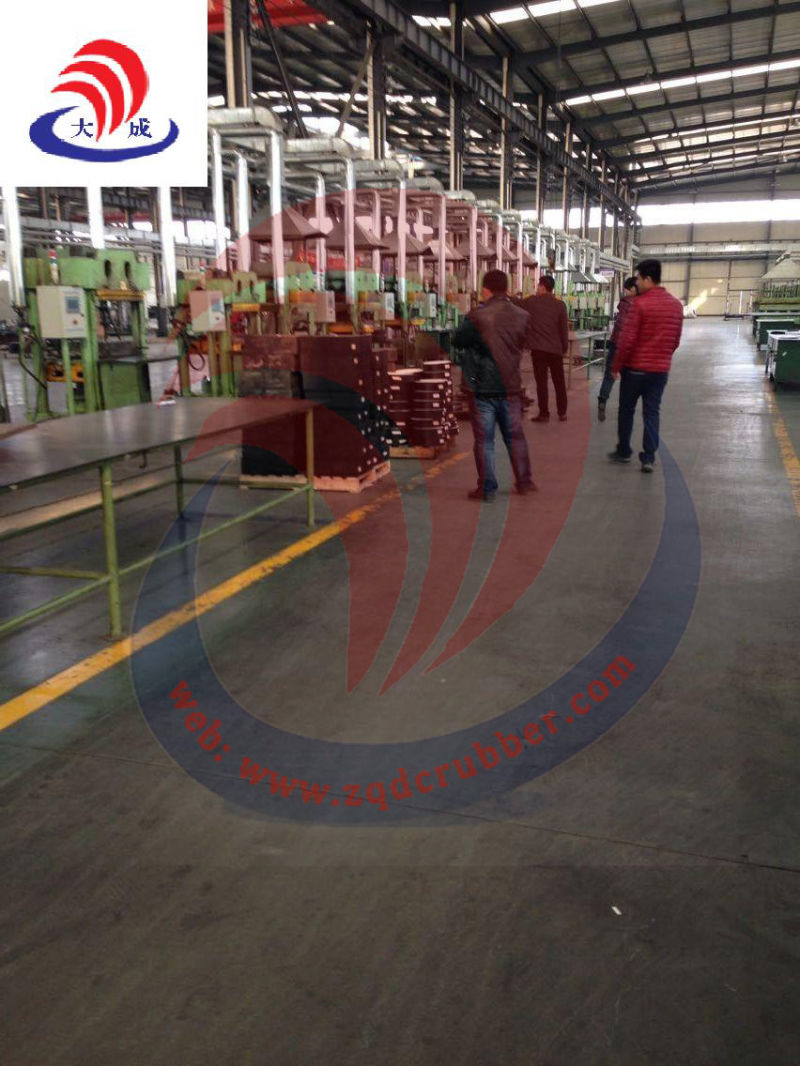 The types of isolation bearings 
1.According to the Isolation property points
(1)Ordinary rubber isolation bearing
Ordinary rubber bearing is vulcanized by multi-layer rubber sheet and steel sheet,
and then glue them together; Product specification 100 mm-800mm in diameter, 
bearing is capacity of dozens of tons to one thousand tons, have large shear
deformation ability.
(2) Lead rubber bearings
The lead rubber bearing is vulcanized by multi-layer rubber sheet and steel sheet
and glue them together, then pour lead into center hole; Product specification 200
mm -1200 mm in diameter, bearing capacity of dozens of tons to one thousand
tons, has large shear deformation ability and yield.
(3)High-performance isolation bearings
High-performance isolation bearing is composed of excellent performance
isolation components; Product specification is 200 mm -1200 mm in diameter,
bearing capacity of dozens of tons to one thousand tons, has large shear 
deformation ability and yield.High-performance isolation bearing technology is
not only excellent performance, but also has simple structure, low cost, easy to
change after installation.  
(4)Three-dimensional isolation bearing
Three-dimensional isolation bearings with horizontal and vertical shock absorption
ability of isolation components, set the level of isolation and vertical shock (vibration)
is an organic whole; Product specifications 200 mm - 1500 mm in diameter, level
has larger shear deformation ability and the yield strength, vertical has bigger
bearing capacity and stability.Three-dimensional isolation bearings can vertically
isolate earthquake, also can isolate the subway and various kinds of vibration
caused by machine, which is suitable for isolation areas, the rail transit construction,
high precision instrument production workshop and a variety of valuable instrument
and equipment protection of cultural relics.
2.According to the vibration territory point
(1)Floating vibration isolation track/board support
Floating vibration isolation track/board support is composed of rubber damping
bearing or steel spring damping bearing and viscous coupling wall-beam, its
basic principle is set the damping bearing between rail/plate and foundation, this
product has good shock absorption performance, suitable for railway, light rail and
underground rail suspension; All kinds of mechanical vibration isolation
(2)Cultural relics isolation box
Cultural relics isolation box is composed of core shock/vibration base and housing,
has a good vibration damping/ability, apply to earthquake action and external
environment vibration excitation of the protection of cultural relics.
(3)vibration isolation platform 
Vibration isolation platform has core energy shock/vibration bearing, has a good
ability to reduce shock/vibration, used for all kinds of high precision equipment
instrument, banking system, network system, and other important data protection,
prevent earthquake and vibration causing damage to the environment. 
(4)Bridge isolation bearing
Bridge isolation bearing is very stiff in nature, however, during earthquake, it
becomes very flexible in horizontal direction so that they can reduce the earthquake
force upon the bridges by changing its own shape. Most of all, it can spring back to
its original shape after earthquake owing to high elastomeric property.   
The advantage of isolation bearings 
1.The trinity of the vertical bearing capacity, level of restoring force and damping 
(energy absorption) 
2.Bearing hysteresis characteristics (load -deformation curve) fully, energy
consumption significantly
3.Rubber formula improvement, the equivalent damping ratio can reach more than
12%
4.Low maintenance cost (no other damping device)
5.Little residual deformation after the big earthquake, don't need to replace
6.High damping bearing surface covered with rubber protection cover, which
prevents the internal rubber from being affected by ozone, ultraviolet ray, has better
aging resistance, 50 years of equivalent damping ratio less than 2%
7.Its low temperature dependency, widely used in different climate regions
8.HDR high damping rubber and natural rubber with superior creep properties
9.Environmental protection,no pollution 
As your request, the high damping rubber bearing can be manufactured in
rectangular or round shapes. Custom sizes and designs are also welcomed. 
What is the good successful case of the isolation bearing 
A:In fact, as early as the mid-1990-s, building isolation rubber bearing showed its
excellent isolation performance. The region of an earthquake, Osaka and kobe,
Japan is the real one. On January 17, 1995, Japan kobea 7.2 -magnitude
earthquake,caused the shocking heavy losses. In the earthquake, 35 kilometers
from the epicenter of the west of the men in the post office base isolation technology
has played a very good isolation damping effect, it is in the field of earthquake
hazard level has reached the degree of 7 (equivalent to China's earthquake intensity
of 9~10 degrees), in the earthquake and after the earthquake, the whole building is
as usual. 
  Contact us if you need more details on China
Seismic Isolation Bearing
From Manufacturer to Italy. We are ready to answer your questions on packaging, logistics, certification or any other aspects about China Seismic Isolation、China Lead Core Rubber Bridge. If these products fail to match your need, please contact us and we would like to provide relevant information.
Product Categories : Seismic Isolators > Lead Rubber Bearing