Lrb Lead Rubber Bearing for Bridge and Building Isolation with Lowest Price
Product Description
Model NO.: D200-D 1200mm Rubber Material: Cr or Nr Type: Fixed and Sliding Trademark: Dacheng Origin: China Material: Rubber Bearing Where to Be Used?: Bridge Product Name: Lrb
Lead Rubber Bearing
Transport Package: Wooden Case HS Code: 4002119000  LRB lead rubber bearing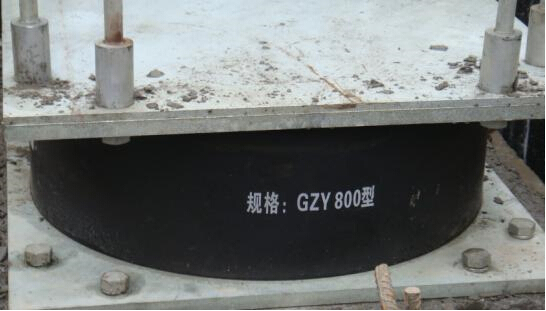 Almost every highway and bridge in China is using our Lead
Rubber Bridge Bearing
.  We can produce various specifications of lead rubber bridge bearing according to the customers' requirements. 1) Lead Rubber Bearing (
Seismic Isolator
)     Seismic Isolator is installed as a Damping Equipment under building structures so as to control the       tremor of structure against the loads of earthquake.      Base Isolation System, which is a branch of manual technique to reduce the tremor of structure, is widely      applied to the large sized structures such as road bridges, rail bridges and nuclear power station to       minimize damages from dynamic loads like earthquake. Also because it has the economic and functional      efficiency with comparative perfection, the Base Isolation System is studied and used in the world,       especially in USA and Japan.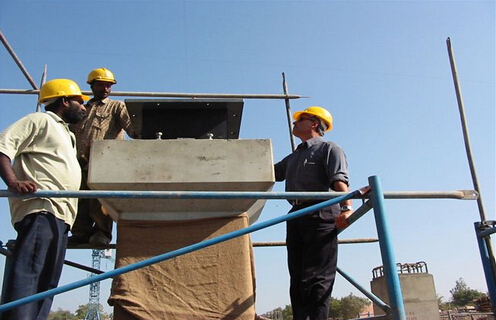 So many bridges and buildings to which the Base Isolation System is applied are constructed in many       countries including USA and Japan all over the world, and the constructed structures showed so high the      function of isolation from earthquake that they proved the safety when arising the earthquake in practice.      Also the installation of Earthquake Absorbing Bearing is likely to be required in the world in order to get       the efficiency of seismic force damping function and of constructive cost down for the lower parts of       structures.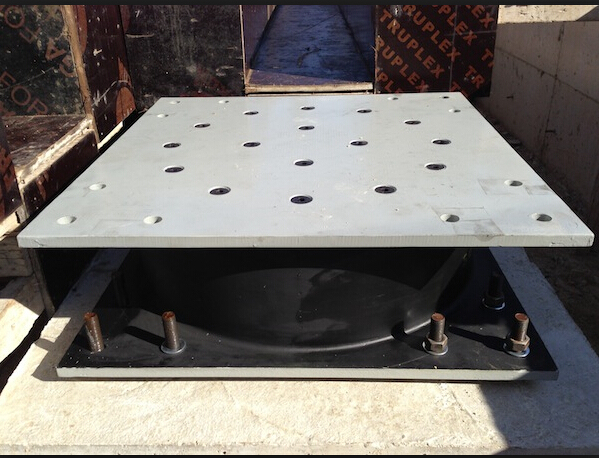 2) Special Features of Lead Rubber Bearing      * Strong Points      As it is made of vulcanized rubber layers, reinforced thin steel plates laid alternatively in the elastomeric pad, and      one or several lead cores inserted through the elastomeric pad and top & bottom steel plate, Earthquake      Absorbing Lead Rubber Bearing not only controls the volume of displacement with resisting the first horizontal      loads, but also prevents the bridge from falling down with absorbing the second horizontal loads at the time of      earthquake.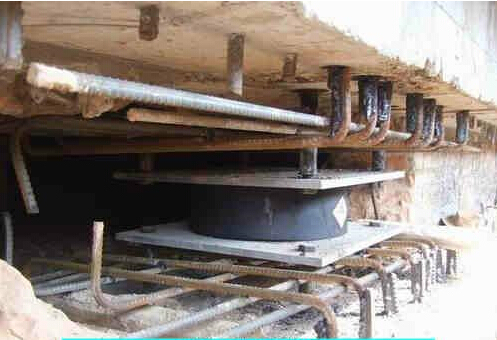 * Property of Lead as a Suitable Material for Earthquake Absorbing Work      Lead is a suitable material used for earthquke absorbing work owing to the followings; first, as lead has a high      malleability, it is able to be transformed from small to large range at a low temperature, second, the melting      point of lead, it is 20°C, which is lower than other metal, makes it easily possible for lead to return to original      molecular structure.     * The Economic Design     * The More Excellent Safety     * Easy Installation 3) General Characters of Lead Rubber Bearing  A) Function & Applicable Bridge   * Function      The Earthquake Absorbing Lead Rubber Bearing is made so as to fulfill the earthquake absorbing function      as well as general bridge bearings   * Applicable Bridge      This bearing is mainly applicable to small & medium bridge and not suitable for large bridge because of      installation with a limit of dimensional height and volume according to the displacement moved from earthquake      or impact load  So it's restricted on the scale of bridge B) Types of Lead Rubber Bearing       Because of the earthquake absorbing function, this Lead Rubber Bearing is manufactured for free movement to all directions C) Mechanical Properties of Lead Rubber Bearing      Earthquake Absorbing Lead Rubber Bearing shows following mechanical properties toward the loads of both      in a short and long term.      If Lead Rubber Bearing takes loads in a short term such as live loads from wind or earthquake on a little scale, it      will control the tremor of structure by the action of reinforced steel plate, laminated rubber and the first stage of      stiffness of lead, on the other side, if Lead Rubber Bearing takes loads in a long term such as live loads from the      change of temperature or earthquake on a large scale, it not only shall control the tremor of structure but also      ensure the safety of movement by the action of lead core which absorb the horizontally large energy after yield of      lead core.      The horizontal hysteresis properties are shown as a following hysteresis curve combined the elasticity of steel      laminated rubber with the plastic transformation of lead core.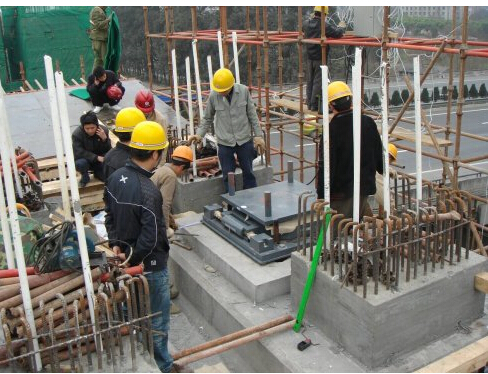 Properties of natural rubber used in the specimens are as follows: G=0.55MPa; Eb=2kN/mm2; κ=0.77; IRHD(hardness)=48.
  Company Information  Zaoqiang Dacheng Rubber, a manufacturing company built in the year 1996, Located in Northern of China. In 2005, Zaoqiang dacheng Rubber Company mergersed with Fengze Rubber technology company and other construction products producing companies to become a strong grouped company, which takes important part in standards correcting and the construction manufacturing area in China and part of the company is listed in the year 2012. Our main products include: Bridge and Road Construction products as various elastomeric bearings,
Bridge Pot Bearings
, spherical bearings,bridge flexible equipment; seismic isolation as lead rubber bearings, high damping rubber bearings, steel type seismic bearings, waterproofing products as various waterstops, etc. We also in the area of pipeline solution products manufacturing. These products contain 10 series with over 200 species and more than 2,000 specifications. We can offer high quality products, competitive price and timely service for every client. Our products are successively used by many famous companies, and they were exported to 18 countries, including Canada, German, USA, Russia and so on. Guaranteeing the product quality is our company's basic principle, Our Belief is Work once, Trust all lives!                         Contact person:Ms. Allison Zhang                      Tel:86-318-8538202/008613253291638                    ZAOQIANG DACHENG RUBBER CO.,LTD.                      Web:www.zqdcrubber.com                      Add:zaoqiang county,hengshui city,hebei province,China      
  Contact us if you need more details on Lead Rubber Bearing. We are ready to answer your questions on packaging, logistics, certification or any other aspects about Lrb、Seismic Isolation Bearings. If these products fail to match your need, please contact us and we would like to provide relevant information.
Product Categories : Seismic Isolators > High Damping Rubber Bearing